"A Warm Place"
"Attakai tokoro" (あったかい所)
22 March 2009
Synopsis
Chiaki lashing out at Uchida, Kana, and Maki due to their boisterous laughter rousing her from a nap on a warm spring day gives way Kana first sending in Uchida and Maki to fight this battle for her before doing her own dirty work only to have it end in a stalemate.
The next arc features Makoto and Uchida taking an afternoon nap with Kana when Maki pays the trio a visit with the request that Kana gaze upon her sleeping face while recalling a dysphoric middle school memory, especially after Kana reads Maki and Uchida sleeping as the perfect opportunity to draw on their faces as a prank.
The arc thereafter features Haruka and Atsuko looking at pictures from their middle school days. The arc that ensues has Chiaki sewing on a wayward button while Kana detects Haruka's school uniform carelessly strewn about before remarking of the seasonal uniform transition. While modifying a shirt of Kana's, Chiaki accidentally slices Haruka's fuku skirt. Knowing that Haruka will be very angry with them when she detects the damage, Kana and Chiaki attempt some desperate and frenzied repairs to buy time for computing their next move. Unfortunately, things coming unraveled when Maki detects the telltale thread put both Kana and Chiaki in scalding hot water with Haruka.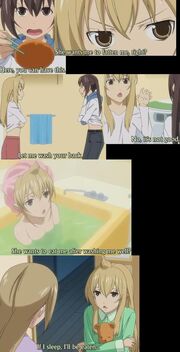 The final arc features Kana blowing up at Chiaki for insulting her once too often before deciding to resolve her fears of Chiaki becoming a delinquent by being a nice older sister. Unfortunately, all Kana accomplishes is to greatly unsettle Chiaki and frighten her into co-sleeping with Haruka.
Adapted From
Referbacks
"references to older episodes"
Trivia
"other"
Cultural References
"easter eggs"
Unanswered Questions
Memorable Moments
Quotes